2005 Escape hybrid Price update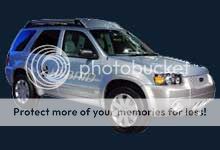 Ford has set base price of about $27,000, $3,300 more then 2005 Escape (V6 engine). The front wheel drive car is claimed to 35-40 miles per gallon compared to 20 miles for 2005 Escape with V-6. It would be available with showrooms later this summer. 4 wheel drive version for this car would cost $1,500 more then front wheel drive. Ford hybrid owners would get "clean fuel vehicles" tax deduction of $1,500 for 2004.
There are 4 stages in the 2005 escape hybrid cycle, Stop/Start, Electric Drive, Regenerative Braking and Cruising with Electric Power Assist.The car automatically switches between electric, gasoline, or combined operation to maximize efficiency and performance.