BMW hybrid car or BMW hydrogen powered car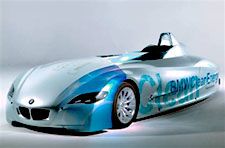 Is BMW coming with
BMW hybrid car
. No, BMW is not coming with
BMW hybrid car
but hydrogen powered cars and fuel cell cars. BMW German carmaker's H2R is the world's fastest hydrogen powered car that has speed upto 185 miles per hour.
Generally, hydrogen-powered vehicles operate on fuel cells. In BMW Hydrogen, powered car uses a modified 6-liter, 12 cylinder combustion engine for its propulsion. Engine in BMW emits only water thus making is one of the most environment friendly car in the present times.
BMW hydrogen powered car has higher degree of efficiency due to higher combustion pressure of the hydrogen-air mixture. Though hydrogen powered BMW hybrid car would give a no exhaust car but the sources through which the hydrogen come is very damaging to environment. The sources might be either fossil fuel like natural gas or by the use of grid electricity both of which releases hydrocarbons while production.
BMW is also developing fuel cell cars. It is developing combustion engine as the sum total of features and characteristics offered by it has got largest number of advantages all in one.